A free feature that Indexic offers to their customer improving their profits and saving on labor costs
What is threshold management and how can it help my business?
Threshold management is a unique and easy-to-use tool included for all aReservation customers. It allows you to ensure that your tours and rentals are booked and sold according to your rules, to maximize your time and revenue. Set thresholds that funnel customers to book certain tour times and then automatically open additional tour times as needed. This will boost your profits and save you wear and tear on your resources. This is a powerful tool that you should utilize especially during the off seasons when demand isn't consistent and the chance of unprofitable runs is great.
How do I use it?
Threshold management is already built into your aReservation software. There are various threshold options you can choose based on your scheduling goals. This feature empowers you to control your availability in order to achieve your highest returns.
If you need assistance setting up Threshold Management for your company, reach out to your Customer Success Representative. She will be happy to assist you.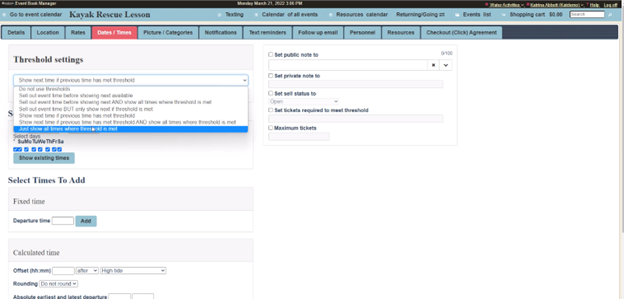 Want to learn more? Watch our youtube video about threshold management!