What is a Manifest? Aside from a supernatural TV series about passengers who reappear after 5 years missing and presumed dead, the word manifest has different meanings depending on its' use. What the word manifest does not mean is a reservation list.
When dealing with the United States Coast Guard, a boat manifest means a true and accurate list of persons onboard a vessel. Just because someone has reserved a seat on the boat doesn't mean they actually boarded. This distinction is important should a manifest be needed for any kind of search and rescue mission. No point looking for someone who was never there in the first place!
One of the unique features of Indexic is the ability to generate a true manifest and not just a reservation list. In order to generate a manifest, you must first know the names of all the people who will be coming to the event, not just the name of the person making the reservation. Within the simple set up of your events you can select to ask for each ticket holder's name. This means if someone reserves 3 tickets, the system will auto prompt them to enter the names of the three people coming on the trip.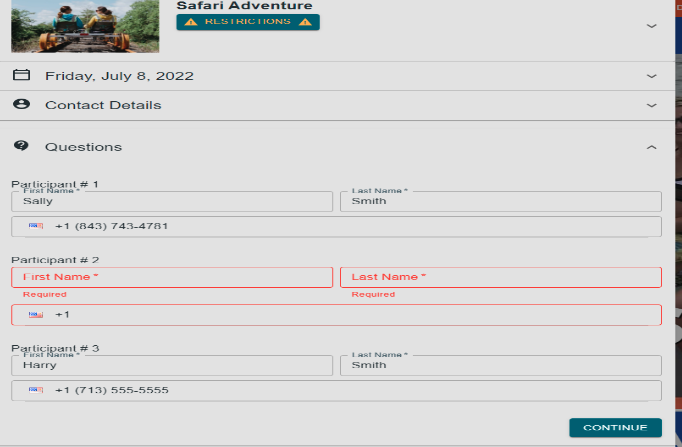 Having everyone's name is just the first step, because although you now have a full list of everyone booked, you still don't know if they all arrived and departed on the trip.
Once people arrive and check-in with you, all you have to is check them in on the system (classic Indexic one-click functionality). This then adds them to the manifest. You can print your manifest or just use the mobile version. Indexic also allows you to add any staff needed, such as the captain and crew. Your manifest is now a true representation of who was onboard, for which trip, and for what date; all the information you need to be compliant with Coast Guard regulations.
Example of a system-generated manifest: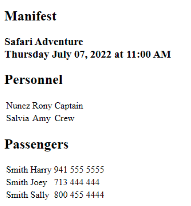 If you are using Indexic's reservation software and you want to set up a manifest for your event, contact us and we'd be happy to assist you. 800-472-4781 Ext. 2 or support@indexic.net.